If you plan on a holiday in Sweden, now it's time to book your holiday house. Our Dalsland Cottage have in just this moment, only 5 bookable weeks left. Read more about renting our cottage in Dalsland this summer of 2017.
What to do on your vacation in Dalsland the summer of 2017? Eco-tourism is big in Dalsland. The area of Dalsland have a lot of nature to show and it is easily accessible.
Fishing and Adventure
If you want to enjoy a bit of peace of quit and nature on your holiday, Dalsland is quite perfect. Dalsland has lots of hiking trails, parks and lakes. In addition, many lakes in Dalsland is part of Dalsland Canal. If you want to get some controlled adventure, here are some tips.
Dalsland Activities is a company that offers adventure for both adults and kids. Take a zip line ride above the treetops, go on guided hiking, mountaineering, horse rides in the countryside with a guide, or a beaver safari that some of their selection range.
Sportfishing Dalsland offers boat rentals and guided fishing trips on Lake Vänern.
Dalsland Moose Ranch has a large forest park with tame moose and the visitors cant get very up close with the animals.
Events and activities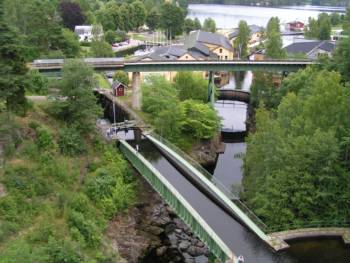 During the summer Dalsland is bursting of activities and events for all people. Things about the industry, crafts, art, music and food is something you find everywhere.
Åmåls Blues Fest, which takes place in early July, is a festival with visitors and artists from around the world. This year's festival is the 26th in the line.
The Håverud Aqueduct was built in the mid 1800s and is Dalsland's biggest tourist attraction. It is visited by hundreds of thousands of visitors each year. There are many that has classified it as a construction engineering marvel.
Glupsk på Dalsland is an event that brings together food with culture. For two days, there is food, music and art.
Dalsland Canoe Marathon is a canoe race for both elite and amateur. The competition extends through four lakes in Dalsland which is included in the channel system Dalsland Canal.
Golf Vacation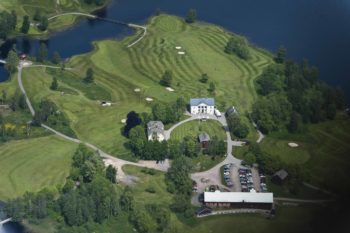 For the golfer Dalsland is a landscape with close proximity to lots of nice golf courses. Forsbacka Golf Club, located just a few kilometers from our house, is ranked by Golf Digest as one of Sweden's top 50 golf courses.
Some other golf courses near our cabin example Billerud Golf Club, Golf Club Mellerud and Årjäng Golf Club. Learn more about how to get a good golf vacation with Dalsland Cottage.